Work from home business ideas
After all my searching this one is definitely the best I have found.
Well, I searched for work from home business ideas for a long time and wasted a lot of money before I found exactly what I wanted to do, and the means to do it. I tried so many things but now I believe I have finally found the best of the work at home business ideas.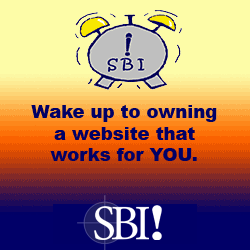 An income-generating website!
A successful online business can give you financial freedom, satisfaction, enjoyment, and the opportunity to quit your day job.
What I do is no ordinary job, it is a work from home business that I OWN, that will sustain me for years and give me incredible job satisfaction. Actually satisfaction is the wrong word - it gives me incredible job excitement and joy!
I can sprout all the things I believe in and not have a boss telling me I can't say it out loud because it runs contrary to their lack of values. I can wear my heart on my sleeve, and I can put my whole heart into my business because it is what I believe in, and I am passionate about it, and it is MINE!
I can work the hours I want and I can wear the clothes I love and feel comfortable in (even my dressing gown and slippers).
Do you want to be a global gypsy?
This truly is a borderless business!
If I want to I can sleep in, or go get a cuppa with a friend, or have my granddaughter stay over. If I don't feel well I don't have to go to work. I can take holidays whenever I want to and I don't have to apply for them in advance, hehe.
Does this sound like the stress-free lifestyle
you would like to enjoy?
Integrate what you believe in into every single area of your life. Take your heart to work and ask the most and best of everybody else too... don't let your special character and values, that secret that you know and no-one else does, THE TRUTH- don't let that get swallowed up by the great chewing complacency.
Meryl Streep
This is not about MLM and trying to sell to all your friends and family, or using someone else's template, or selling things you don't want to. It is about setting up your very own successful online business.
SiteBuildIt or SBI! helped me realize that
I had this amazing idea for a business.
But SBI! is much more than site-building or Web hosting. It's even more than about building successful businesses. It's the end impact that is so important, creating lives of freedom and independence. You have already seen my business, HomeofGoingGreen.com and now I guess you are thinking that I probably already had the skills to set up a webpage. Well I am telling you, I didn't! I didn't have a clue of how to even begin to set up a webpage. I had tried to start a Wordpress blog, and got absolutely nowhere. I couldn't seem to work the thing, had no focus for it, and very quickly gave up.
SBI! takes you through a step by step process, from start to finish to set up your online business. Take the SBI! Video Tour to see how you too can do this too. Everyone has a passion about something and going green is my passion, but living green was always something I just did - every day. It is how I live and I was always talking about it. I was always saying that most people just don't know where to start or what they can do to go green in their own homes and lives. You will have something you know something about too.
Find your work from home business idea that suits you, your situation, and your passions.
I knew I would love building it because it is a passion of mine. Before then, I just hadn't realized that I could turn my lifestyle into a business; until I found SBI and their process and tools to develop a high income generating website.
But that is the beauty of the SBI process. They take you through the process of working out what the ideal niche could be for you, that you already know something, or a lot, about and then if it is a viable niche that will make you an income, you turn your work at home business idea into your very own income-generating website business.
When you have built your website (very doable for newbies like I was) with SBI, you will then have a legacy to pass on to your children, a passion to keep you ALIVE and interested for many years to come, or an asset to sell if you so choose. And the best bit is, it will make you a wonderful income which will then leave you time for your family, traveling, hobbies, relaxing and generally enjoying your life.
You will be proud to tell people what you do and how you did it too.
SiteBuildIt is one of a kind on the internet and it is also being taught in more than 30 colleges and universities around the world by successful SBI owners.
I am only one of thousands of people who have an SBI! online business. Here are some Case Studies for you to see what sort of work from home business ideas other people have turned into successful online businesses. You can also have a look at some Sample Sites.
By now you will have seen that SBI! helps you set up real businesses. Those make money fast on the internet schemes are a trap for people like you and me because we want to succeed at that, so much, that we get sucked in by the marketing hype. It happened to me and I would get part way into it and realize I either couldn't do it, couldn't understand how to do it, or my sense of ethics wouldn't let me do it. You know, having to spam people with software you then had to buy on top of the initial cost. YUK!
Most of the work from home business ideas on the internet give you a carbon copy website with a product that will make them heaps of money, that they say is your very own website and then leave you to the task of getting your own traffic. That was where I came to a grinding halt. How do you get traffic?
SBI! takes you through the whole process
The proven process is Create Content; Get Traffic; PreSell; Monetize. These 4 steps are explained in detail in both Video and Written Action Guides. Nothing is left out and you are not left to stay stuck in any part of the process. Just ask in the forums and you will benefit from the years of experience there, or if you can't find your answer there, just email Support and receive a prompt reply.
SBI has no further costs to grab you after you buy.
There is no more software you need to purchase. It is all inclusive and all the tools you will ever need are included. There is no other system on the internet today as complete as this one. And they really care about your success. It is a thriving community of business people like you and me, from beginners to the super-successful, and they give you help and advice unstintingly through support and through the forums.
The 90 Day Guarantee: Make
Your Final Decision After Trying SBI!
The Money-back Satisfaction Guarantee turns your purchase into a "no risk trial."
There really is no risk involved! Every day that you delay is a day that you fall further behind, for no reason.
So before you spend your hard earned money on another fast money scheme, take another look at what SBI! can do for you and how much SBIers love what they are doing. Yes, I Love SBI! SiteSell the company, is reputable, trustworthy with a strong track record since November, 1997. It has no "satisfied customers," only "raving fans" and I am definitely one of them.
Can a beginner really do it? ABSOLUTELY!
I was a beginner and couldn't even get a Wordpress blog up. I did not have a clue. All you will need to know is how to surf the internet and send email, some basic computer skills like cut & paste, and SBI will teach you the rest.
SBI helps you come up with your own niche, something you already know a bit or a lot about and have an interest in, then leads you by the hand through the whole process from start to finish. In fact, most of the SBIers who are on the forum (yes we have our own very active forum) actually have developed two or three SBI sites.
Are having trouble making a decision?
Try Choose It for free. It is one of the many SBI! Tools and it will help you make your important decision.
Here's that infopublishing.sitesell link again.

We take the tortoise approach. Follow the steps set out in the Action Guide in your package, work slow and steady on your business and in the end you WILL succeed in building a flourishing, profitable small business on the internet. Solo Build It! changes lives in so many ways and has changed mine enormously.
I saw Solo Build It in about 2004, I took the Video Tour (actually it was the Quick Tour because I was on dial up), and I procrastinated - yep I didn't click on the Buy It button even though I was really impressed with what they do. I waited another 4 years to do that. They didn't have the pay by the month option then and I think if they did I would've taken the plunge. I thought about Solo Build It on and off in that next 4 years, tried other work from home business ideas that just wasted my money, and yet I even recommended Solo Build It to other people!
Now I can say, I WISH I DIDN'T WASTE ALL THAT TIME! Well, now that I have yelled that over the airwaves: if you want to make money on the internet, then Solo Build It is the all out best way to do it. It is not a get rich quick thing; a website is something that requires work up front and pays off big time later. Then the work load decreases and the money just rolls in.
How can I make money with my idea?
At the moment I make most of my money with advertising. You probably saw the links throughout the site that say "AdChoices". Well every time someone clicks on one I make money. This program is called Google AdSense and it is free to use.
I also sell other people's products, but I don't have to send them out. I just earn a commission every time someone orders. This is affiliate sales. Solo Build It has made available for free download The Affiliate Masters Course. The No.1 affiliate guru in the world, Allan Gardyne, has called The Affiliate Masters Course "the best course of its kind at any price, and it's free!" Read this and it will open your eyes to many monetization ideas. It is yours to keep.
You have probably learnt a lot about Solo Build It! and converting your work from home business ideas into a successful online business, but I am sure you will have some questions.
Have your questions answered by the experienced adviser group who know Solo Build It! inside and out. You can ask your questions by phone or e-mail.
People always tell me they wish they could do something similar to me, escape the 9 to 5 drudgery of their job and do what they REALLY want to do. Well, they can, and so can you.
Forget all the work from home business ideas that promise you a fortune in your first month - if you are looking at them just research the online reviews and you will probably find they have promised the world and don't deliver, and they are making a packet out of people like you.


So what are you waiting for?
Don't waste years like I did; take advantage of the 90 Day Money-back Satisfaction Guarantee and Order Solo Build It! Risk Free now and start living your dreams sooner.