Natural Health Remedies
Treat Illnesses Effectively
Maintain and enjoy better health.
There are many natural health remedies which allow you to manage and maintain your health without risking the potential side effects of prescription medications.
There are many natural health remedies you can use alongside your prescription medications to boost healing also. But it is important to know a bit about what you are doing and to get expert advice when you need it. Only a qualified health practitioner can give you that.
If you have a serious condition or illness, or you want to supplement you prescription medications with natural health remedies, then go to your qualified Natural Therapist for advice and guidance. You also need to tell your Health Professionals that you are supplementing.
In 2011 prescription drug overdoses replaced car accidents as the No. 1 reason for accidental deaths in the U.S., with painkillers topping the list.
I believe the foundation of health is rooted in your immediate living environment, in your diet and how you live your life.
It is vital to have a healthy living environment, as free of VOCs and EMR as you can get it; to be eating a healthy, balanced diet as organic and free of chemicals as you can get it; and get fresh air, clean water, regular exercise, enough healthy sleep, don't smoke, don't do drugs, and limit your alcohol and sugar intake. In fact, get rid of sugar altogether!
When you think of disease prevention and aging you probably don't think, "better go get that liver checked out". We often think about heart health, brain function, and even lung health, but seldom about our liver's health. It's really ironic, because if the liver is not functioning well those organs that get so much concern aren't going to function well either! A healthy liver is critical to our health, our well being, to how well we age and also disease prevention. 
Many natural health remedies are becoming
more and more popular thanks to their
well-documented safety and proven effectiveness
Actually there is a great positive effect from using natural health remedies; as well as their amazing healing properties, they often support and actually nourish the the whole body but especially the immune system, and can promote general well-being.
Here is the famous eBook Heal Yourself 101 - I highly recommend it!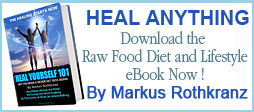 There are many safe and effective ways to
help your body heal naturally.
You can use natural health supplements, vitamins and herbs which will greatly benefit your immune system, your energy levels, metabolism and your overall sense of well-being, as part of your daily health regimen to keep your body healthy and strong.
Many natural health care treatments have been used throughout Europe and Asia for many centuries and with great success. Just ask anyone who uses Chinese or Western herbs regularly! We are able to benefit from the many scientific studies which have emerged from many of the countries using these natural systems and who actually prefer them to prescription medications.
To maintain your health, remember your Multivitamin Supplements & Liquid Multivitamins - a selection of Men's, Women's and Children's Vitamins.
You can make natural health remedies and medicines or natural cures at home in your own kitchen.
They are made from natural ingredients like herbs, fruits and vegetables. They are becoming more and more popular because, when made properly, they are so simple and effective with no nasty side effects, and they actually enhance your health.
If you use natural health remedies there are no extra chemicals building up in your body and you will feel the elation of having improved your health. You will feel empowered if you learn to make some of your own home remedies, and you may never feel helpless when it comes to your health ever again.
Wondering where to start with your home remedies? The kitchen is the place to start.
Cure your sinus infections and sinus headaches with this simple recipe you can make yourself. You will also get a bonus recipe for pain relief!.
In your pantry are many of the ingredients you would need to deal with most common ailments. Of course if you have no herbs and have been existing on a poor diet you will need to make some changes and do some shopping. But this can happen gradually. You don't have to rush out and buy hundreds of ingredients and spend a fortune...but you do need to throw out the junk.
Take a look at what you need NOW and start with one or two ailments at a time, as they strike, and get what you need for just that. Also there are some things you would do well to do to rebuild your general health and purchase to have in your natural medicine chest. Oh, and a couple of good books to guide you.
Natural Cancer Cures
If you are looking for natural cancer cures or new cancer cures, please visit the cancer pages where you will find links to the most informative sites I could find.
Please read my Disclaimer: I am not a health professional and everything I say on this website is purely my opinion. I make no health recommendations other than, please DO your homework before you decide on your treatment. DO ask your natural health professional for their expert opinion and guidance. If you have serious illness, get more than one opinion from both camps.