Natural Cancer Cures and
what you need to know

Natural Cancer Cures ARE out there and I believe they should be available to everyone and NOT cost a lot of money. I also believe that curing cancer should NOT include poisoning your body with chemo and radiation. This of course is MY belief and not a recommendation as I am NOT a medical practitioner.
World Without Cancer: The Story of Vitamin B17
Mr. Griffin marshals the evidence that cancer is a deficiency disease
The Doctor Who Cures Cancer
Dr Revici and his revolutionary natural cancer cures.
Organic Turmeric Root Powder
Turmeric helps reduce inflammation and pain of arthritis. Buy BULK
It has just never made any sense to me to try to heal your body by introducing poison which makes you very sick! It might kill the cancer if you are very lucky, but what about the rest of your body?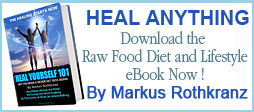 The medical treatments for cancer seem to me to be archaic - more like torture! And is all this making a real difference? But these recommended cancer "treatments" are 60 years old! To me this seems to be very little change and very little progress.
Your doctor is probably a very caring person who started out his/her career wanting to help people, and cure sick people. But doctors have to stick to the rules of the mainstream medical game.

In many states, if a doctor recommends anything other than the established medical "treatments" — particularly for cancer — he can actually lose his license! And if it is not in a medical journal then your doctor probably doesn't know about it. After all how much time does a regular doctor have to read and research?
If you or someone you love has cancer, you're going to thank your lucky stars you found this page... because... in an age of failing medicine, there's one cancer treatment that's had remarkable success for more than 60 years.
Chemotherapy
The September 1993 edition of the Journal of the National Cancer Institute of NIH reported that a major study, which included just about every type of cancer, determined that chemotherapy provided a "durable response" in just 3% of all cases. Another 4% of the patients in the study were found to have a "significantly long survival period."
Are they the odds you would want for your life?
Natural cancer cures ARE out there and the following is just one example: (Remember to click on the links at the end of the page to learn all you can in your quest to cure yourself of cancer.
The Revici Method
Revici's entry into the U.S. was facilitated by Sumner Welles, a former aid to President Roosevelt, in recognition for his work with the French Resistance and the beneficial potential of his cancer therapies.
Here's some powerful quotes about the towering genius of Dr. Emanuel Revici.
The first one is from a doctor with 35 years experience who headed the largest radiation oncology clinic in the US. He wrote this in the foreword to The Doctor Who Cures Cancer:
"[Revici] has cured many people who were otherwise considered incurable... It is my professional opinion that his medicines have worked for many of the patients whose records I have examined."
- Dr. Seymour Brenner, M.D., FACR
Then there's Dr. Louis Burns who wrote;
"When you see the x-rays of bones eaten away by cancer and then returning to normal, how can one but believe? I hope we can get more medical people to see the light and put his [Revici's] treatment into practice."
Outside The Medical Mainstream,
Dr. Emanuel Revici Was 'Quietly' Performing
Unheard-Of Cancer Miracles
Before chemotherapy and radiation became the standard, Dr. Revici was already making massive inroads into fighting cancer. He had developed effective treatments for reversing tumors, even in Stage IV cancer patients!
And his treatments have little or no side effects!
In The Doctor Who Cures Cancer, you'll learn all about Revici's revolutionary treatments and where you can get them.
Don't believe the myths!
Exposed: Deadly Cancer Drugs Make Cancer Worse and Kill Patients More Quickly
Woops! Study Accidentally Finds Chemotherapy Makes Cancer Far Worse While conducting their research, the team discovered that chemotherapy actually heavily damages healthy cells and subsequently triggers them to release a protein that sustains and fuels tumor growth. Beyond that, it even makes the tumor highly resistant to future treatment.
Important Reading:
Please follow these links for further important reading on topics related to natural cancer cures.
Go to Rick Simpson's website to discover how he healed cancer with cannabis oil, and directions on how to make it yourself.
Read about how this woman rid her body of T4 lung cancer in 4 months.
There are other links for further reading on each of those pages.
Important Websites on Natural Cancer Cures:
If you have cancer now and you are searching for natural cancer cures, please go to the following websites and study everything they have:
Important Books and Products:
The following are highly recommended books and products that have, as a result of some scientists and physicians research, been strongly recommended for cancer:
Please read my Disclaimer: I am not a health professional and everything I say on this website is purely my opinion. If you have cancer I make no health recommendations other than, please do your homework before you decide on your treatment. Please ask your health professional for their expert opinion and guidance.
May You Be Blessed With Healing.